Unleash the potential of your business
In the ever-evolving world of digital marketing, our objective is to communicate your brand's message as visually and simply as possible.
We recognize that the world needs smarter communication, and we are committed to helping your business stand out and be better.
By combining the power of visual communication with storytelling, we create engaging content that captures the attention of your target audience, ensuring your story resonates and leaves a lasting impression.

Turn your vision into action


Connect brands and audiences


Cost-effective and sustainable marketing 


Real-world marketing simulations
Storytelling
For us, the key is visual storytelling. Our job is to help you cut the noise, find the essence, and create the story, visual impression, and technical platform that all together support your messages the best.
But we can't do all of this without knowing you.
Check out who we are.
Stand out
The world is full of communication; products, visions, solutions, values, and stories to tell. And many of you are even fighting for the same audience's attention. So, to reach the relevant people, you must communicate compellingly to make them remember your story.

For us, it's about more than just understanding the customers' needs. It's about helping our clients grasp the various solutions available and envision the bigger picture.

Thomas Juel, partner & CSO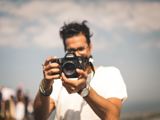 Effective communication
We see marketing in the broadest perspective possible. Whenever ideas need to be communicated from one person to another, you need simple and effective communication.
 
We are specialists in converting complex solutions, ideas and products into convincing, visual communication – and our deep roots in technology give us an advantage in finding the right package.
Essentially, technology is just the container for your stories.